Hunan University's FSAE Racing Team Sparkles in FSG
Hunan University's FSAE Racing Team Sparkles in FSG
The self-developed racing car of Hunan University is galloping on the Hockenheimring, Germany.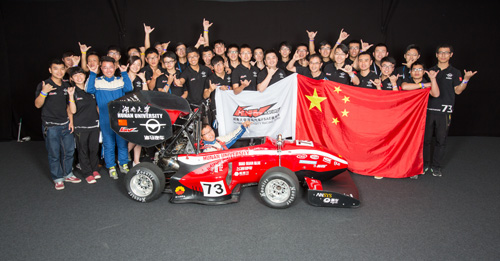 33 teachers and students from Hunan University participate in the contest in Germany.
At 0:00 of August 3 Beijing Time (18:00 of August 2 local time), the 2015 Formula Student Germany (FSG), concluded at the Hockenheimring, Germany. It is an internationally top level car racing. Hunan University's FSAE racing team competed in the race as a combustion team on behalf of China and put on outstanding performance. Finally, it ranked the 15th in the overall scoring results among the 71 participating teams, being the only team from Asia entering the top 20 in this race. It is also the best result that Chinese college students have won since 2012 when beginning partaking in this contest. Besides, GFR racing team of Oregon State University of America won the first place in this event.